---

WHO WE ARE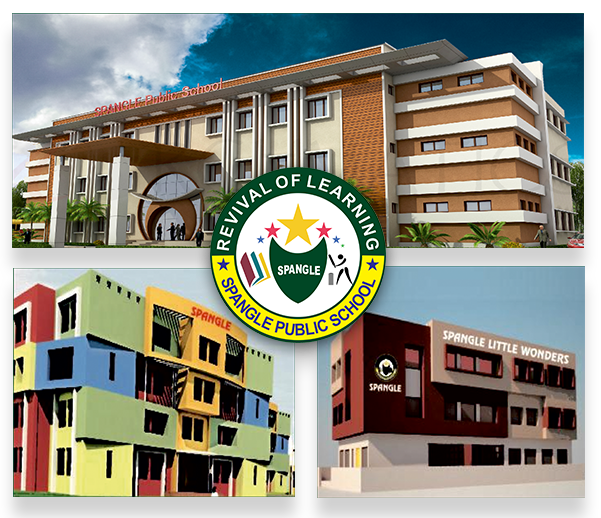 Spangle Public School is a K-12 Co-educational school. It is Affiliated to CBSE, New Delhi and follows NCERT syllabus. SPS runs two play schools in the heart of the city. (Spangle Kidz and Spangle Little Wonder). Our educational programmes help students to develop confidence. We help students in reflective learning. We offere 360º learning atmosphere. Our vision is to strive for the best. Our motto is to provide holistic education to the children.
School is being affiliated to the Central Board of Secondary Education (CBSE), which is the largest educational board in the country. Our goal is to provide integrative growth in all areas- Physical, intellectual, moral, emotional and social in a conducive environment to grow and evolve as a good social being and a global citizen.
37 acres of Spangle Public School is nestled in a scenic location on the outskirts of Sri Ganganagar, Rajasthan. The sprawling landscape with its wide spread area of flora indigenous to the region and the pedestrian friendly campus responds to the spectacular views of the surrounding area. The design of the campus is inspiring and promises towards the holistic development of the students.
Our experienced professional faculties strongly believed to deliver the best to cater and suffice the needs of the students in today's world by following a rigorous academic programme combined with a plethora of Co-curricular and Extracurricular activities. Over the past eight years, our school has already been renowned for its excellence in delivering quality education; it is a co-educational and independent school.
The curriculum at spangle is specially designed of dynamic standards and provides students with many experiences and activities, field trips and integrate a sports schedule and community service. Here, with one – to – one interaction of faculty and the child, focusing on physical, intellectual, emotional and spiritual strength as the four pillars of education, we prepare the young to educate themselves throughout their lives.
---
GO BACK